In response to COVID-19 and public health concerns,
Vail Public Library has suspended all in-person gatherings
(meetings, classes, programs, storytimes)
Thank you for your understanding.
---
Related Pages
---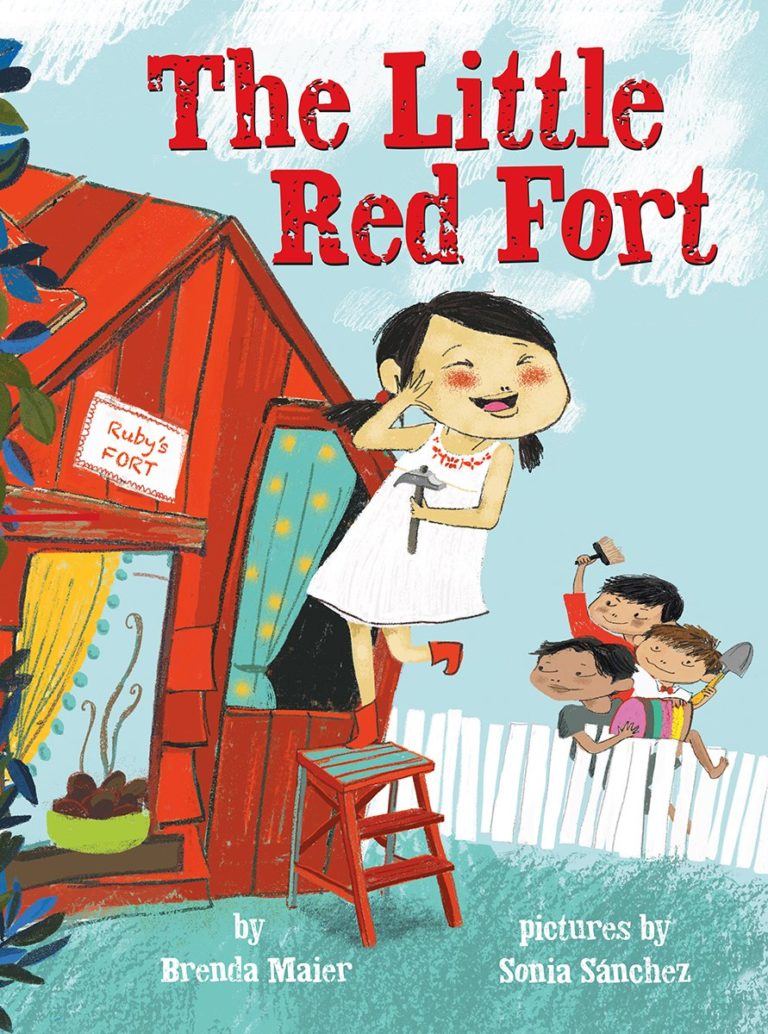 This Year's One Book Colorado Is…
The Little Red Fort [El fuertecito rojo]
In this retelling of the little red hen, ruby wants to build a fort, but her big brothers refuse to help her. When the boys see the finished product, they really want to play in it, but it's too late to do anything about it. Or is it?
Contact your local library to pick up a copy of the book for your 4-year-old !
The Little Red Fort, read by Miss Cricket from Vail Public Library
El fuertecito rojo, leído por Sandy de la Biblioteca Publica de Vail
---
ANNUAL SCARECROW BUILDING CONTEST: COVID-19 EDITION
Halloween is upon us and you know what that means …
Vail Public Library's annual Scarecrow Building Contest!  For this year's event, we're asking you to build a pandemic-themed scarecrow at home,  decked out in its "best work-from-home" attire.  You may come pick up supplies from the library starting the week of Oct 11. We'll have some supplies here from our friends at the Thrifty Store in Edwards. First come first served as far as the supplies go. This is a good opportunity to use your own supplies and clothes from home to get that truly unique look.
The first-place-winner of the best "work-from-home scarecrow" will receive an Amazon Black Fire HD8 with Alexa!  WOW!!
This tablet supports hoopla, OverDrive, Kindle, Libby – whatever app you like to use to read our fabulous ebooks!
Once your scarecrow is complete, send your photos and your scarecrow's name to Sandy.  Registration and submission is from Oct. 11 –  28 so we have time to judge!  The winner will be announced on the VPL Facebook page on Friday Oct30, as well as notified by email.
Good luck and Get Creative!!
---
Leon Joseph Littlebird
Virtual Concert recorded on Aug. 11, 2020
Please enjoy our Summer Reading Program finale with special guest Leon Joseph Littlebird – Native American history, music and storytelling.
Leon Joseph Littlebird Part 1
Leon Joseph Littlebird Part 2
---
Kids Create Monthly Arts and Crafts
Recommended for kids ages 7 -11. 


We will air a new Kids Create activity on the 2nd Monday each month at 4:00 pm – Join us!   The materials to create each art form will be available on our Take & Make shelf  the week before, during and after weeks after the program airs on our Facebook page.
November 9th come prepared to make Thanksgiving decorations.
Please provide your own pumpkin (full size or ornamental)
construction paper – fall colors
google eyes or make your own.
We will have art supplies here on our Take & Make shelf, but not pumpkins.
---
Coding Programs
Is on a  mission to close the gender gap in technology and change the image of what a programmer looks like and does.
Girls Who Code, a club at VPL for girls going into 3rd to 5th grades, will meet virtually the fourth Thursday of the month at 3:30pm. Mark and Lelia Conlon will be our club facilitators. This is a new club and all interested girls in this age group are encouraged to join us.
If you are interested, please reach out to Cricket Pylman at 970-479-2179 or cpylman@vailgov.com.
Given the unprecedented times brought to us by COVID-19, we are choosing to offer Robotics as a self-taught class this summer. We have three EV 3 LEGO robots with training manuals and invite patrons to use open source software to work their way through the course. Click here to learn how you can borrow one of our robots for four weeks.
---
Talking to children about COVID-19
Click here for a parent resource provided by the National Association of School Psychologists.
---
Find and Check out one of our:
Little Free Library!
Built by the teen 2017 Summer Reading Program, Vail Public Library has planted 5 little free libraries in Vail and Gypsum.