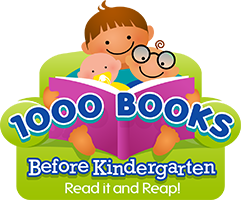 Vail Public Library invites you to embark on a fantastic, lifelong journey with your child with the 1000 Books Before Kindergarten early literacy project.
The concept is simple, the rewards are priceless. Read a book (any book) to your newborn, infant, and/or toddler. The goal is to have read 1,000 books (yes you can repeat them!) before your little one starts kindergarten.
Does it sound hard?  Just think, if you read just 1 book a night, you will have read about 365 books in a year. That is 730 books in two years and 1,095 books in three years. If you consider that most children start kindergarten at around 5 years of age (and very few children will let you stop at "just one" book a night!), it's easier than you think!
How to Participate:
Read with your child.  Studies have shown that reading with your child provides a great opportunity for bonding.  Reading together is fun and will create life‐long memories for the both of you.
Keep track of the titles of the books that you read with your child.  Make a record of what you are reading in a spiral notebook, on our convenient reading log sheets, online, or by whatever method you want. The journal itself will make a great keepsake item for your precious child.
If you are able to, make sure to keep a record of "any" book that is being read to your child. This includes teachers and siblings.
Where's My Teddy? – Jez Alborogh
The Moon Sees You & Me – Caleb Burroughs
What Treat Can Ruben Eat? – John R. M. Jr. Aranton
Mike Mulligan and His Steam Shovel – Virginia Lee Burton 
Happy Birthday, Moon – Frank Asch
Dear Zoo – Rod Campbell
Chilean Mines –  Saige J. Ballock-Dixon
Stellaluna – Janell Cannon
Ten, Nine, Eight – Molly Bang
Biscuit Loves the Library – Alyssa Satin Capucilli
Animals Should Definitely Not Wear Clothing – Judi Barrett
The Very Hungry Caterpillar – Eric Carle
The Three Bears – Byron Barton
Five Little Monkeys Jumping on the Bed – Eileen Christelow
How Do I Love You? – Marion Bauer
Ninja! – Arree Chung
A Visitor for Bear – Bonny Becker
Fred Stays with Me – Nancy Coffelt
Dora's Sleepover – Lara Bergen
Freight Train – Donald Crews
Madeline – Ludwig Bemelmans
Click, Clack, Moo: Cows that Type – Doreen Cronin
The End (Almost!) – Jim Benton
Good Dog, Carl – Alexandra Day
Bear's Busy Family – Stella Blackstone
Jamberry – Bruce Degen
1000 Books Before Kindergarten – Mark Borghese
Arthur: Abuela – Arthur Dorros
Little Gorilla – Ruth Bornstein
Are You My Mother? – P.D. Eastman
The Mitten – Jan Brett
¡Ehlert, Lois: Feathers for Lunch
Stone Soup – Marcia Brown
¡Emberley, Ed: Go Away, Big Green Monster!
Goodnight Moon – Margaret Wise Brown
¡Falconer, Ian: Olivia
The Story of Babar, the Little Elephant – Jean de Brunhoff
¡Feiffer, Jules: Bark, George
 Mr. Gumpy's Outing – John Burningham
¡Flack, Marjorie: Ask Mr. Bear
In addition to the 1000 Books Before Kindergarten challenge, the 1000 Books Foundation supports #TheBigRead (an annual one-day event that promotes the reading of just one book) and has a very active social community on Facebook , Twitter, and YouTube.  Just click on their icon to visit their website!